Grass Seed: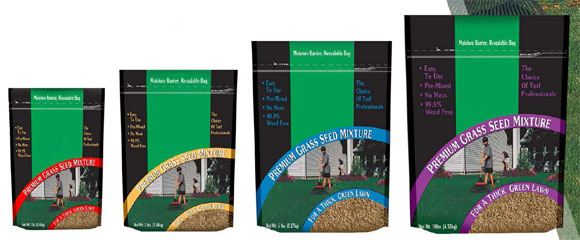 Bartell's offers 5 custom mixes for your grass seeds.
Bartell Shade Mixture
Special shade adapted mixture of attractive fine-textured turfgrass varieties. Best for use in areas of low-traffic.
Bartell Sun & Shade Mixture
This attractive, fine-textured mixture will thrive under varying site conditions in sun or shade even under low maintenance. Fast and easy to establish.
Bartell Sunny Mixture
Beautiful, dense, fine-textured, dark green turf for areas of full sun. Will benefit from supplemental irrigation and higher fertility. Tolerant of moderate traffic.
Bartell Stress Mixture
Durable, quick establishing mixture tolerant of traffic, and tough site conditions. Improved dark green, dense, disease resistant turf-type varieties included. Sun or partial shade.
Bartell Athletic Field Mixture
Attractive, dense, disease resistant turf-type mixture tolerant of moderate to heavy traffic once established. Heat and drought tolerant. Sun or partial shade.
---